Discover the Benefits of Booking Direct
Yes, you herd…um, heard correctly (sorry, couldn't resist). This unique type of yoga has arrived in Vail!
The Vail Valley already has a plethora of studio and outdoor yoga classes in the summer, and now you can enjoy Goat Yoga too.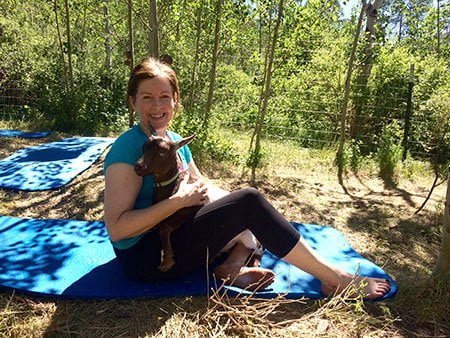 Goga! (Goat Yoga) at Vail Stables
"Goats are the natural entertainers of the animal world," says Kym Luck, owner of Vail Stables, explaining the craze. "Life is wonderful to a goat that naturally lives in the present. The adorable appearance of a baby goat is off the charts."
What seemed like a crazy idea four years ago has since become the most popular activity at their ranch. Adorable, gentle Nigerian dwarf goats climb on participants backs, settle on laps when yogis meditate and nibble on grass, hair or items of clothing. Serious yoga this is not! Expect lots of laughter as occasional interruptions occur and poses are adjusted to accommodate your yoga "partners". It's all about going with the flow! If you love yoga, love animals, and don't mind getting a little dirty, you will love this experience.
If "goat" and "yoga" are not music to your ears, there are lots of other options for visiting yogis. Studios like Vail Vitality Center and Aria Spa have classes year-round, but we suggest trying an outdoor class instead. These are summer-only for obvious reasons, and take advantage of our gorgeous mountain scenery and warm, sunny weather.
You'll find the closest outdoor yoga class right in our backyard. As soon as summer kicks into high gear, Lodge at Lionshead offers a free weekly yoga class on its pool deck for up to 10 guests. Day of the week and time will vary, so check with the front desk for the most current schedule and to sign up.
If you can't make our outdoor yoga class, the Vail Vitality Center instructors teach free outdoor classes each Saturday morning on the Solaris lawn. You can also venture down valley to Eagle, Colorado for free "Yoga in the Park" on Sunday mornings. Back in Vail, Betty Ford Alpine Gardens hosts "Yoga in the Gardens" three days a week.
More adventurous yogis can check out aerial yoga. Our favorite aerial yoga classes are at the Peace Love Aerial Yoga studio in nearby Minturn. Owner Tracy is the best at keeping it comfortable and fun while you channel your inner Cirque du Soleil performer.
Finally, there is free twice-weekly gentle yoga at the library next door to Lodge at Lionshead for guests who want something a little more low key. On their off days, paid gentle yoga classes are available across the street at the Vail Welcome Center.
If you need advice or help in finding the best class for you, stop by the desk while you're here. Leslie has tried most of the classes mentioned – including goat yoga!
Visit Vail for Yoga & Wellness
While you can always stay in Vail hotels like Lodge at Vail or the Marriott, why not rent a cozy condo in scenic location along Gore Creek? Lodge at Lionshead is quiet, yet convenient to everything including Vail Village. If recharging is your goal, we think you'll enjoy coming home each day to the peace and quiet at the Lodge. For the ultimate in zen, try to get a creekside Platinum 1 Bedroom or Platinum 2 Bedroom condo. Those book fast, so call as soon as you are ready to make your vacation plans. Two to four night minimum stay is required depending on your dates. You can check out rates and availability right here on our website.