They say a picture is worth a thousand words and nothing I could write would convey the beauty of the fall season in Vail like this photo. The bright gold of the aspen trees against a brilliant blue Colorado sky is a spectacular sight to see! If you are planning a vacation in Vail in the fall, we suggest taking a scenic drive one day to soak in the scenery. Peak weekend varies year to year, but usually happens in Late September or early October.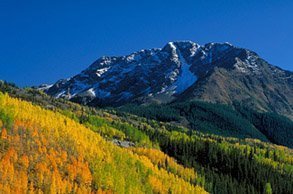 (1 hour to full day): Take Highway 24 S through Minturn and up the pass (about 20 minutes from Vail). This is a designated scenic byway with plenty of shoulder pull-offs for photo ops. Have lunch on the roof-top deck at Mango's in Red Cliff – famous for its fish tacos – as you continue to enjoy the scenery. If you have more time, continue up to Shrine Pass from Red Cliff (10+ miles on a well-graded gravel road). At the top, make the hike to Shrine Pass for 360-degree views of Copper Mountain, the Gore Range, Mt. of the Holy Cross and peaks in the Sawatch Range near Leadville. Return to Vail via Vail Pass and 1-70.
Red Sandstone Road to Piney River Ranch
(3 hours to full day): This is a beautiful out-and-back drive that starts on the north side of I-70 in Vail and travels up a well-graded gravel road. It is accessible to passenger cars. The journey ends after approximately 45 minutes at Piney River Ranch and Piney Lake. Pack a picnic, bring your fishing pole, or take a hike once you're there. Piney Falls trailhead is on the north side of the lake. You can also rent a canoe or stand up paddle board, and have lunch at the nearby lodge. You might even spot some of the resident moose!
Brush Creek Road to Sylvan Lake (Eagle)
(Half to full day): Brush Creek Road begins 30 minutes west of Vail in Eagle. It starts out paved and then turns into a well-graded gravel road. Sylvan Lake is just one destination. You could also go beyond Sylvan Lake and up Crooked Creek Pass – with many loop options to come back to the Valley. Or you could take the fork before Sylvan Lake to Yeoman Park to check out Fulford Cave. We're happy to help you narrow your options.
Independence Pass (near Aspen)
(Full day): This is definitely worth the drive and paved the whole way! We like to take I-70 west to Glenwood Springs, and then go south to Carbondale. Plan on stopping in Aspen for lunch and a little shopping. From Aspen, head east up Independence Pass. Be prepared for one-lane travel in a few spots before you cross the continental divide. Bring extra layers and a jacket as the top of the pass is chilly! On your way down, you'll pass the scenic Twin Lakes before turning north to Leadville. In historic Leadville, you can do more sightseeing, dining and shopping. You'll also see the 2 highest peaks in the state! Head back to Vail past Ski Cooper, historic Camp Hale and Red Cliff on that scenic byway mentioned above. It's a full day, but well worth it and one the locals around here love to do each year.
If you have done these before or have a high-clearance 4-wheel drive vehicle, we have even more suggestions for you. Give us a call or visit us at the desk and we'd be happy to share!