When the countdown is on for Vail Mountain's opening day, you know Thanksgiving can't be far behind. Vail Mountain traditionally opens a week or two before Thanksgiving. We think it's pretty nice to be able to celebrate the start of the winter season and gather with family and friends for the holiday!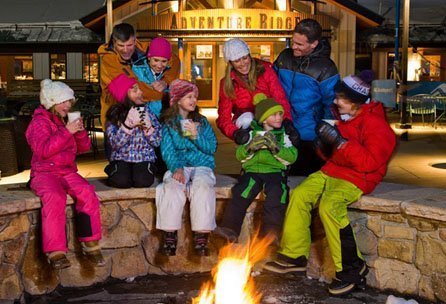 The best way to describe Thanksgiving in Vail is comfortably quiet, unlike most other holidays around here. Crowds are minimal in early season, but all of the restaurants and shops are open for business. Vail employees are fresh and ready to take great care of the first visitors of the season. You can walk around Vail Village and Lionshead, and you won't find long lines or big crowds. You can probably even walk into your favorite restaurants without reservations (though we always recommend those). It's quiet, peaceful and cozy – perfect for a holiday centered around gratitude!
Vail skiing and snowboarding conditions over Thanksgiving are mostly determined by Mother Nature. Some years, we see amazing snow conditions on Vail Opening Day, when many of the front side runs open. On really good years, a couple of the Back Bowls have opened, too. We have also seen opening days when only a couple of runs opened; however, those days are in the past. In 2019, Vail Mountain undertook the most significant snowmaking enhancement project in North America. This means bigger openings on the front side even if there's not as much natural snow early season, and opening of more base areas like Vail Village and Golden Peak. Mother Nature may not always shower us with riches, but Vail Mountain will still offer a good experience with its enhanced snowmaking. If you know that coming into a Thanksgiving stay, you'll be prepared to have fun either way. Thanksgiving is much more than just skiing or snowboarding anyway.
Vail Mountain will have plenty of instructors on hand at the Vail Snowsports School regardless of conditions. If you want to fine tune your skills, this would be a good time to do it. You can also try non-ski and snowboard activities like snowshoeing or snowmobiling. Snowmobile tours may not be available in all of the usual spots, but generally tours out of historic Camp Hale are running in early season. The views are spectacular when you get up to the vistas in that area!
On the actual holiday, Thanksgiving dinner can be anything you want it to be. It can be home-cooked with your traditional family recipes in the comfort of your condo. All Lodge at Lionshead condos are equipped with dishware, glassware, silverware, serving pieces and cookware. If you need any specific cookware for your menu and can't find it, just ask. If you don't feel like cooking but still want to relax in your condo in front of the fire, we can help you with catered dining options. These are available at numerous price points and levels of service from pick up (try Moe's Original BBQ in Lionshead) to hiring a private chef to prepare, serve and clean up afterwards. Last, but certainly not least, many of Vail's world-class restaurants will roll out their own gourmet versions of Thanksgiving dinner. Our concierge staff is happy to share the different menus with you, and make reservations if you opt to dine out.
At Lodge at Lionshead, we realize early season conditions can vary from year to year, so we keep our Thanksgiving holiday lodging prices low. You can check rates and availability right here on our website.
One more tip…if the thought of an early season ski trip appeals to you, early December is another value-priced and less crowded time to visit. More of the mountain will have opened depending on how much natural snowfall the area has received. Historically, there are also fun events like the Birds of Prey Men's World Cup ski races in Beaver Creek and live concerts during Vail Snow Days. Let us know if you would like more information.
Photo courtesy of Vail Resorts, Inc.