How to Get to Vail and Lodge at Lionshead
Updated April 20, 2020
If you are reading this blog post, you are probably planning a ski or snowboard vacation to Vail. Congratulations! Vail, as the tagline goes, is like nothing on earth. You're going to love it!
Now to the logistics. After dinner reservations, one of the things our concierge handles most often for guests is ground transportation. Options include private shuttle transfers, public shuttle service, taxis, Uber and Lyft (with caveats, so keep reading), and rental cars. Our concierge team helps our guests weed through all of these choices to find the best options and pricing for them. First though, you have to fly here, so let's start with your airport choices.
Get the Best Rate Available & the Best Availability
The majority of our guests fly into Denver International Airport, also known as DIA. Its airport code for booking is DEN. DIA is located about 120 miles from Vail, and has the largest number of flights to/ from Colorado by a landslide. It is a hub for United, Southwest, and Frontier Airlines, offering 1,700 daily scheduled commercial flights to more than 215 non-stop destinations. Drive time from DIA to Vail is approximately 2 hours in good weather with minimal traffic, and minimal stops.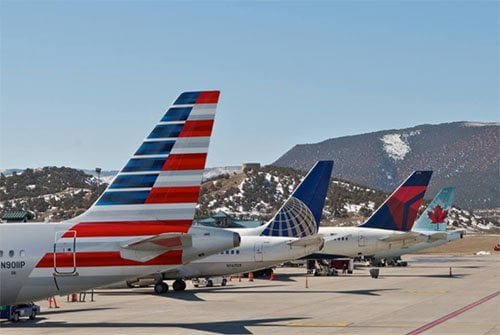 You can also fly into Eagle County Regional Airport (EGE), which is about 35 miles west of Vail proper. In the winter, American, Delta and United provide non-stop jet service between EGE and ten major domestic and international cities, including Atlanta, Chicago, Dallas/Ft. Worth, Denver, Houston, Los Angeles, Miami, New York/JFK, Newark, Phoenix, Salt Lake City and San Francicso. If these non-stop flights don't serve your city, chances are good you can connect to EGE through DEN. The advantages to flying into EGE are obvious – shorter drive to Vail (about 40 minutes), no mountain passes to go over, and it is a smaller airport that is easy to negotiate. You land right at the main terminal for baggage claim and ground transfers. Upon departure, ticketing, security and the gates (all 5 of them) are right there. Because of the ease of access and location to Vail, flights to EGE tend to be more expensive than flights to DEN. However, even if you are on a budget, I would still suggest you search flights into Eagle. There are often winter specials offered, and even without specials you can still sometimes find competitive prices. It never hurts to check! For flight schedules and more information, go to www.flyvail.com.
Ground Transfers – Public vs. Private Shuttles
Epic Mountain Express (formerly Colorado Mountain Express) offers public shuttle service from both Denver and Eagle Airports. CME has been operating in the Vail Valley for 35 years, and is the company we use for our guests. Other shuttle services come and go, but if you want reliable, professional service CME is the way to go.
Public shuttles hold about 10 people, so you will likely make a few other stops along the way before arriving at Lodge at Lionshead. Rates from Denver start at $85 per person each way. Rates from Eagle start at $49 per person each way. Kids are less, and parties of 3 passengers 12 years and older save 20%. All rates include free WiFi en route, which is a nice amenity.
If you prefer private shuttle transportation, we recommend Big Mountain Transportation. We have used BMT since they started operating 15 years ago, because their service is exceptional. You can expect privately chauffeured luxury transportation with friendly, professional drivers. The advantages of private transfers are many, but we think the biggest are that you don't have to do the driving, and you don't have to share with other passengers or make any stops you don't want to make. If time allows, BMT drivers have been known to swing guests by the grocery store on their way to the Lodge at Lionshead. They are so good, in fact, we have repeat guests who use BMT every trip to Vail. Some even have favorite drivers that they request!
Taxi service is only available from Eagle Airport, but it is widely available there and also for transportation around town. The taxis here are mini vans that seat 6, and from Eagle Airport cost about $145 one way. Taxi service is not available from Denver.
Uber, and more recently Lyft, are available, but there are caveats. Their services are not allowed at Eagle Airport, so do not plan on using them as your airport transfer if you fly into Eagle. Uber and Lyft are plentiful at Denver International Airport, but you have to find a driver willing to make the 2-hour drive to the mountains. Most drivers will pass. We had one guest come from Denver via Uber last season, but that was an anomaly. I've not heard of any guests who have been able to take Uber or Lyft back down to Denver.
One last caveat, Uber and Lyft service is available for around town transportation, but not like in bigger metropolitan areas. Service is sporadic. Sometimes there are drivers available nearby and other times there aren't. I would say use it if you have it, but you may need to use taxi service as a backup.
Rental cars are available at both Denver and Eagle Airports. If you are coming from Denver, make sure you rent a car with either snow tires, tires with the mud/snow (M+S) designation, or a four-wheel/all-wheel drive vehicle. During winter storms, Traction Laws are frequently activated on the mountain passes between Vail and Denver. If your vehicle is not in compliance, and you are involved in an accident that blocks the road way, there are hefty fines involved. Plus, it's just safer and you'll feel better. Traction Laws are usually not an issue from Eagle Airport.
Rental cars are in high demand during the winter season, and in our experience quite expensive. Taking a public or private shuttle usually costs less if you are here for a longer stay. Plus, in the winter you don't need a car once you are at Lodge at Lionshead. Vail Mountain is right here for skiing and snowboarding. The entrance to Lionshead for dining/ shopping/ nightlife is 50 yards from our front door. Vail Village, for more dining/ shopping/ nightlife, can be accessed in about 10 minutes on foot or via the free in-town shuttle bus service that runs every 5-10 minutes. Lodge at Lionshead conveniently sits right between two of the in town shuttle stops. In other words, skip the rental car and leave the driving to someone else.
If you have booked a lodging reservation with us at Lodge at Lionshead, please don't hesitate to contact our concierge team with your ground transportation needs. They are experts, and as I said earlier, can help you find the best options for your group.
We wish you safe travels!