Vail Snowmobile Tours That You Don't Want to Miss
The perfect terrain awaits! There is a tour for everyone of any ability when it comes to snowmobiling in Vail. Even the kiddies can do it, on Nova Guides' Youth Snowmobile Lap Track at Camp Hale. Adults, of course, have many more options. Our staff has experienced virtually every tour in the area to help take the guesswork out of deciding which tour is best for you.
Read on to learn more about the best Vail snowmobile tours for your ability level. Then, be sure to request a free copy of our Vacation Guide for the best local insight!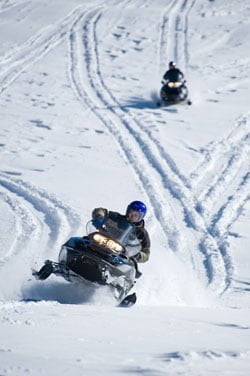 The Best Vail Snowmobile Tours Based on Skill Level
Take the kids for a spin at Nova Guides' Camp Hale location! They offer a kid-friendly Youth Snowmobile Lap Track that little ones 5 and older can navigate via specially crafted mini-snowmobiles. A kid can also ride as a passenger with an adult on many of the tours listed here.
Nova Guides' Tigiwon Tour
Nova Guides' Tigiwon Tour is an excellent choice. The road is wide, groomed (i.e., nice and smooth), and the machines are super comfy. They even have hand warmers! This tour is easy-going and scenic but offers a taste of adventure when riders are let loose in the big powder-filled meadow halfway through the tour. Guests can refuel at the historic Tigiwon Cabin with hot drinks and cookies before heading back down to the base.
Vail Backcountry Tours offers tours a little closer to town. You'll travel up a forest service road but have more opportunities to get off the beaten path once you get closer to the top. During the stop at their private yurt for hot cocoa, you might recognize one of Vail's most iconic images – the view of the rugged Gore Range.
Nova Guides' Top of the Rockies Tour
For the more adventurous intermediate, try Nova Guides' Top of the Rockies Tour. This tour offers endless miles of open meadows and unbelievable panoramic views of four surrounding mountain ranges. Expect to reach elevations of up to 12,500 feet!
Nova Guides' High-Performance Tour
Nova Guides' High-Performance Tour is just the ticket for an experienced snowmobiler! Riders are upgraded to more powerful "powder" sleds to get them further into the backcountry and to more adventurous terrain. You will want solid snowmobiling skills – preferably in powder – for this exhilarating tour!
Local Tips: What You Need to Know Before Your Snowmobile Tour
2021 Editor's Note: Be sure to contact the tour company before making your reservation. They may have restricted access to shareable gear due to Covid-19. 
All tours include snowsuits, helmets, and boots. Dress as you would for a day of skiing or snowboarding (i.e., warm clothing in layers) and bring a neck gaiter and pair of goggles just in case. Be sure to wear sunscreen, too.
Don't forget your camera! The scenery will be beautiful at all of these tour locations.
Stay Near All the Action at Lodge at Lionshead
We can't wait for you to experience the best snowmobile tours in Vail, CO, when you visit! Make the most of your getaway when you stay with us at Lodge at Lionshead. We offer a wide variety of accommodations, each one uniquely outfitted with luxurious furnishings, stylish decorations, and comfortable bedding. Additionally, you will have access to our local staff, who are more than happy to help you with anything from answering questions about the area to making your tour reservations! Start planning your winter getaway today!